The Cunard Line and the timeless appeal of vintage travel posters…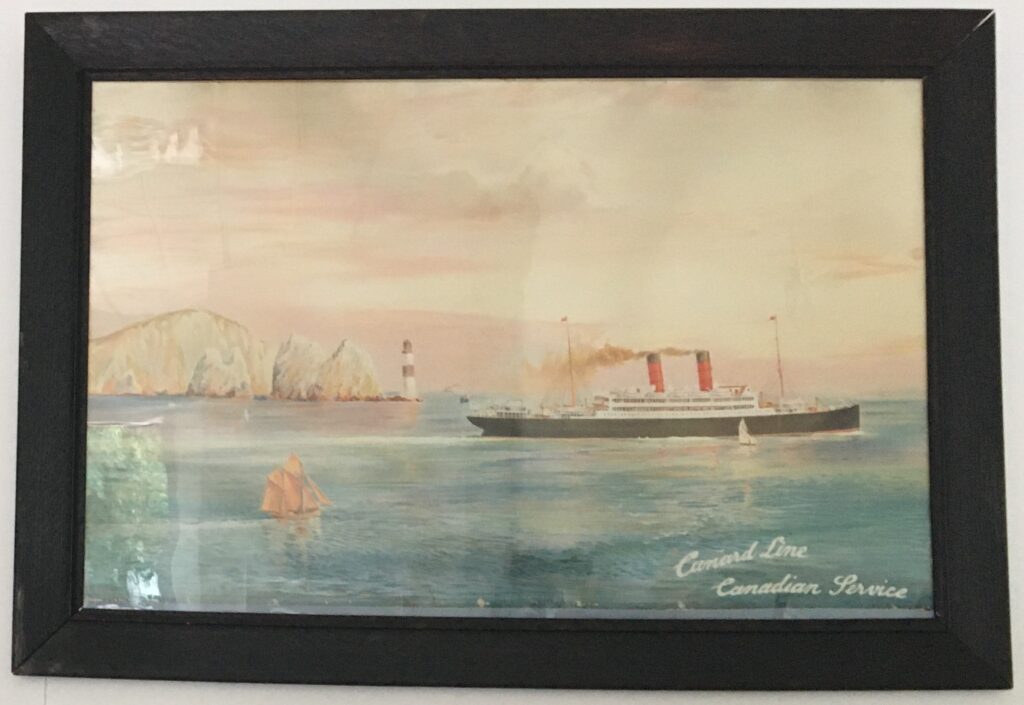 The Cunard Line needs no introduction to postal historians. Their successful 1839 tender for a Liverpool-Halifax service ushered in a new era of transatlantic mail delivery, and has provided fertile ground for many exceptional studies and exhibits.
While a diverse group of maps, prints, photographs, and paintings adorn the walls of our shop, most prominent upon entering is a travel poster promoting the Cunard Line. We are often asked about this view – circa 1905 –  which is of an unnamed two funnel steamship "Passing the Needles," Britain's last point of land, and was based on a watercolour by prominent artist Odin Rosenvinge (1880-1957).
The lithography was undertaken by  the firm of Turner and Dunnett of Liverpool, who produced many of Cunard's prints and posters. The original oak frame, approximately 39″ x 23″, has a black finish, popular during the Edwardian era, and is incised "Cunard Line" along the bottom.
Steamship and railway companies used these framed views of their ships and trains throughout their offices and stations. They also distributed them to larger travel firms, such as Cook & Sons, to promote their brand to prospective travelers. This poster is indeed for sale, and the iconic and attractive view is well-suited to the collection of both a philatelist or travel enthusiast. In this COVID-era, a little whimsical armchair travel is a welcome respite!
Though not currently on display, we have access to other Canadian and foreign ship, railway, and airline promotional framed prints. We welcome inquiries with your interests, be they a particular shipping line, name of vessel, railway, or airline. We may have one or more items that meets your requirements, and would be happy to contact you with further details.